Squad
Product Type:
Steam Account Learn more
Region:
Global
Delivery:
Digital Download
Description

Squad is a large scale combined arms multiplayer first-person shooter emphasizing combat realism through communication, team play, emphasizing strong squad cohesion mechanics as well as larger-scale coordination, tactics, and planning. It features 20 large open maps, vehicle-based combined arms gameplay, and player-constructed bases to create a heart-thumping, visceral gaming experience with split-second decision-making in real-world scale firefights.
_
50 versus 50
Pitting several conventional and unconventional factions against each other, Squad aims to create authentic combat experiences utilizing a sense of being a part of something greater than yourself. Pick a side and become a member of a nine-man squad with your team to face off against 50 other players in intense, large combat environments. Squad features the US Army, Russian Ground Forces, British Army, Canadian Armed Forces, the Middle Eastern Alliance, and Irregular Militia and Insurgents with their own unique arsenals.
_
Building System
Do you hear the sound of rumbling and grinding gears? Do you fear the inevitability of your short life at the end of a T-72 Main Battle Tank barrel? Get your Squad Leader to place down an anti-tank guided missile system and remove that pesky tank from the battlefield. In Squad, we provide numerous methods to adapt to the ever-changing needs of the battlespace. Place down emplacements like HMGs and AT guns, or build up a fortified position with sandbags, HESCOs, and razor wire.
_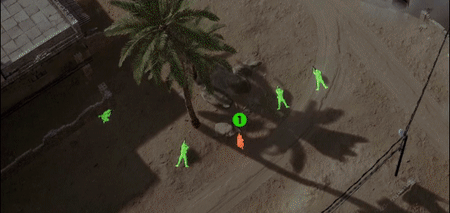 Communication
The pinnacle of the Squad experience, communication is a soldier's best tool in effectively engaging the enemy. To help facilitate navigating the complexity of communication on the battlefield, we provide a world-class in-game VoIP system that allows you to talk to other soldiers locally, internally in your squad, between squad leaders, or squad leaders to the Commander. Also, we provide a plethora of other tools that fire team leaders and squad leaders may use to inform their squads and teams, such as map tools and in-world marking tools.
System Requirements
PC requirements
Minimum:
Requires a 64-bit processor and operating system

OS: Windows 10 (x64)

Processor: Intel Core i or AMD Ryzen with 4 physical cores

Memory: 8 GB RAM

Graphics: Geforce GTX 770 or AMD Radeon HD 7970 with at least 4 GB of VRAM

DirectX: Version 11

Network: Broadband Internet connection

Storage: 55 GB available space

Additional Notes: A teamwork oriented mindset
Mac requirements
Minimum:
Requires a 64-bit processor and operating system
Linux requirements
Minimum:
Requires a 64-bit processor and operating system
Categories
Multi-player, PvP, Online PvP, Steam Trading Cards, Steam Workshop, Partial Controller Support, Valve Anti-Cheat enabled
Developers
Offworld Industries
Publishers
Offworld Industries
Release date
23 Sep, 2020
Supported languages
English*
*languages with full audio support
Website
https://joinsquad.com/
Steam page
https://store.steampowered.com/app/393380