Apocalyptic Vibes
Product Type:
Steam Account Learn more
Region:
Global
Delivery:
Digital Download
Description
World
The world is in decline, it is rough and cold. Echoes of nuclear winter are still heard.
Civilization was at the peak of its development, people conquered the solar system, colonizing its planets and satellites. But several large-scale man-made disasters and global wars in a row plunged the Earth into agony.
Now the remnants of humanity are forced to lead a hard life on scraps of surviving land among the ruins of the old World.You are a lone wanderer walking through the endless wasteland. Your goal is vague, but your intentions are firm. You decide to challenge the cruel wasteland and go out on a dangerous road.
Gameplay
Apocalyptic Vibes is a single-player immersive first-person shooter with a non-linear narrative.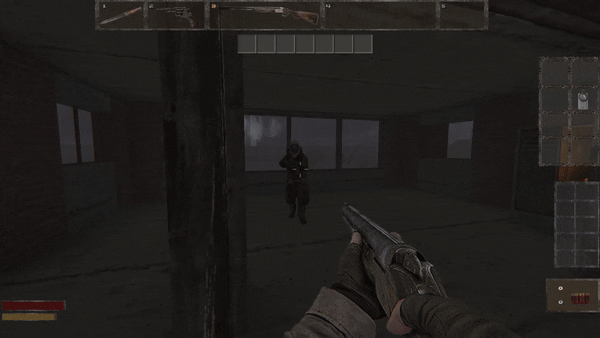 Combat and weapons:
Be sure that in the wild wasteland there are quite a few who want to kill you. You have four main types of weapons: a knife, a revolver and two large guns of your choice. Machine guns, carbines, shotguns, rifles, etc. It remains only to get ammo and use the weapon for its intended purpose. Each weapon is specific and has its own tricks in handling. So, for example, by pressing a key, you can cock a revolver, shoot a double-shot with a shotgun, or use a bayonet.
You are only a man, and your enemies are merciless, a few shots are enough for you to die. Only by learning to master your arsenal, you will be able to give a decent rebuff in a fight.
Weather:
Within each chapter, you can freely move between levels.
You will unavoidably face the harsh postapocalyptic weather: toxic rain, storms, fogs and optical phenomena. You will be helped to survive by special equipment and the ability to use the little that wasteland gives. A hood will protect you from toxic rain, a gas mask will protect you from poisonous fog, and wayposts with a radio receiver will help you not to get lost and give you an opportunity to check the weather forecast in order to stock up on filters and necessary resources beforehand. It is also advisable that you always have a supply of provisions and medicines in your inventory. After all, health does not restore itself.
Equipment and resources will have to be searched for on location, recaptured from enemies or exchanged through barter.
Dialogues and radio:
Communication and branching dialogues with characters are also a part of the gameplay and story.Communication can also take place via radio. So you can negotiate a deal with the character in advance, get a task from a distance, or just chat while the toxic rain is falling outside the window.
Walking through the frequencies, you will find various messages and art, such as music, pictures or videos.
Style
The game is powered by GZDoom, the modern port of the classic Doom engine.
The style of the game is "retrorealism". Photo-textures and realistic sound are combined with the classic features of the level architecture and sprite graphics.
System Requirements
PC requirements
Minimum:
OS: Windows Vista or later

Processor: A processor that supports SSE

Memory: 2048 MB RAM

Graphics: GeForce 8, Radeon HD2000, Intel HD 4000, or greater

Storage: 400 MB available space
Linux requirements
Minimum:
OS: Linux

Processor: A processor that supports SSE

Memory: 2048 MB RAM

Graphics: GeForce 8, Radeon HD2000, Intel HD 4000, or greater

Storage: 400 MB available space